GRINDING RINGS
TYPE 2 ring wheels are intended for flat surface grinding. They work with the face surface and are distinguished by different clamping mode. These grinding wheels are widely used for grinding and sharpening guillotine knives, secateurs, circular saws, etc.
They can be used on mobile grinders (e.g. Schwamborn), face grinders (e.g. Graupner) and frame grinders (e.g. Fickert).
ANDRE TYPE 2 resin bonded grinding wheels are manufactured mainly on the basis of white aluminium oxide (99A), pink aluminium oxide (CRA) and green silicon carbide (99C). For special applications, ANDRE also offers other combinations of abrasive grains with excellent performance characteristics.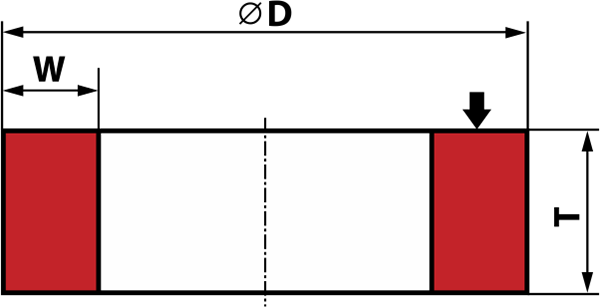 Example of labeling:
2 - 150x80-W25-99A54G6B-30

The presented abrasive tools ANDRE ABRASIVE ARTICLES have been manufactured based on knowledge and long-term experience of cooperation with customers.