DISC WHEELS WITH THREADED INSERTS RECESSED ON THE WORKPIECE SIDE
Grinding wheels TYPE 3612 are a group of wheels designed for working with face surface, individually or in pairs. The grinding wheels have threaded inserts on their non-working face for clamping on the grinder.
ANDRE TYPE 3612 resin bonded grinding wheels are mainly manufactured on the basis of brown aluminium oxide (95A), white aluminium oxide (99A) and black silicon carbide (98C). For special applications, ANDRE also offers other combinations of abrasive grains with excellent performance characteristics.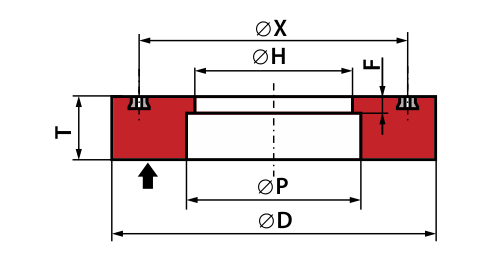 3612 - D × T × H - no. pic.
Examples of labeling:
3612 - 600x75x305-95A80NBMOD-35-PP/36/042

Parameters of the offered grinding wheels of the presented type
TYPE 3612
Dimensions [mm]
Angle scale and number of thread inserts
No. pic.
D
T
H
P
F
X
Height of threaded insert
450
70
138
200
55
224
362
14
60° 6 x M10
30° 12 x M10
PP/36/152
600
75
305
315
55
370,5
530,5
12
60° 6 x M16 x 1,5
30° 12 x M16 x 1,5
PP/36/042
*) Other parameters (dimensions, profiles) available according to individual arrangements.
The presented abrasive tools ANDRE ABRASIVE ARTICLES have been manufactured based on knowledge and long-term experience of cooperation with customers.